Product Availability Scheduler
Price:
$5 / month, free trial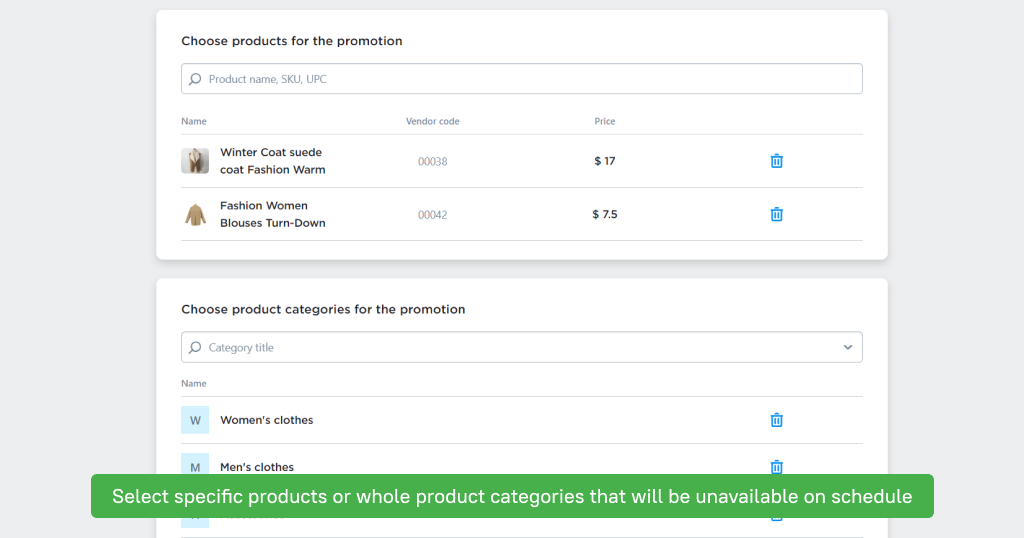 Manage product availability: select time for launches and flash-sales
Automatic product scheduling: choose when your products are available and when they are not. Perfect for time-limited offers, such as breakfast menu, new product launches or Christmas decorations.
Control of time-limited products: if there is an expire date, set the date to turn off the products, such as tickets or food.
Easy flash sales: plan your sales in advance and don't worry about disabling an offer manually.
'Coming Soon', '5 days left': add special ribbons to highlight the products that will turn off soon. Or add ribbons to help your customers know when the products are purchasable again.
Create schedules to easily manage when and what products are available for purchase
You don't want to serve breakfast in the evening, nor do you want to sell tickets for a yesterday concert. Cancellations and refunds disappoint customers and put your reputation at risk. Product Availability Scheduler makes it way easier to manage availability of certain products. Whether there is an upcoming launch, or a flash sale, you just need to select products and make a schedule. On the start date selected products will automatically become available.
You can easily manage date and time when products are available or hidden. You can even create repeating schedules to make your products available every Saturday, for example. Product Availability Scheduler will automatically make the products unavailable, when flash sale is over, and you don't have to set an alarm to turn it off at midnight yourself. You can add ribbons to unavailable products if you want your customers to know when to come back.
Product Availability Scheduler allows you to manage multiple schedules at once. You can plan to launch some products on Monday, have a flash sale next week, and create a recurring product, that will only be available on the 1st day of each month. There's plenty of room for different offers!
Product Availability Scheduler
Price:
$5 / month, free trial
We use cookies and similar technologies to remember your preferences, measure effectiveness of our campaigns, and analyze depersonalized data to improve performance of our site. By choosing «Accept», you consent to the use of cookies.