Outfy is one stop productivity tool which helps in sharing & promoting your products to top social networks in the quickest and easiest way !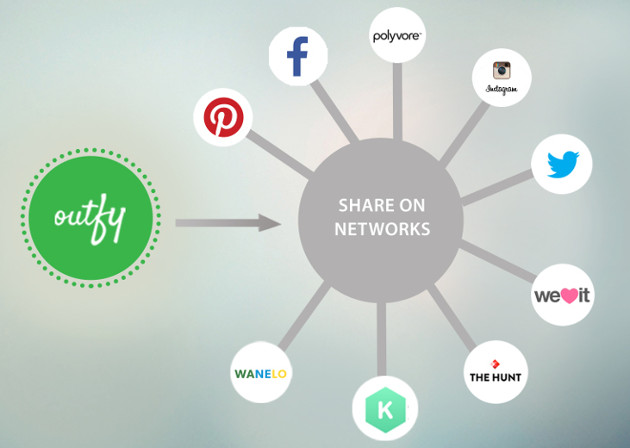 Share & Promote your products to the best social networks in the quickest and easiest way!
Have you been wondering to promote your exclusive products on the best social shopping sites like Wanelo, Pinterest, Fancy , WeHeartIt, Pinterest, Facebook, Twitter, etc.?
It is indeed a great idea to do that for showcasing your products to the world.
But have you ever thought if you had a tool which makes your life easier by collecting your products right from your Ecwid store and share it on these networks within a snap? Guess your wait is over.
Outfy is the one stop productivity tool to share and promote your products to these networks in the easiest & quickest way saving a lot of time.
- All your social accounts in a single place
- Supports all prominent social e-commerce networks like:

Wanelo
Pinterest
Fancy
WeHeartit
Instagram
Facebook
Twitter
Keep
TheHunt
- Know your products Popularity Score measured from the results of its influence on the best social networks
Absolutely free to try!
No credit card required, No monthly commitment, just pay as you go.
Get it now from -
https://my.ecwid.com/cp/CP.html#apps...app&name=outfy
More than 1000+ sellers have shared & promoted more than 10,000 products via Outfy
Best !
Outfy Team
For help contact
hello@outfy.com