Multi-level Illustrated Menu: Show Categories Menu with Pictures
Price:
$6.49 / month, free trial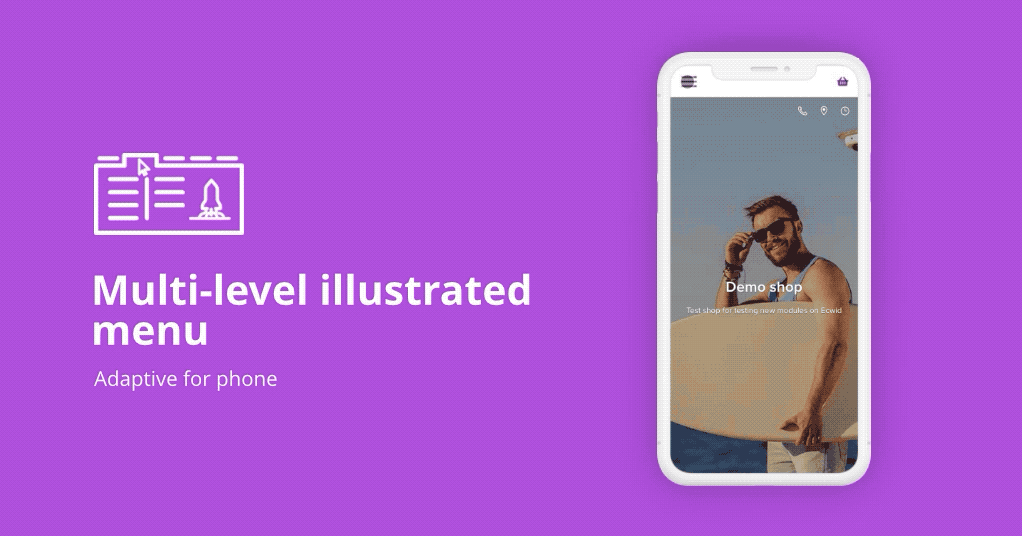 Beautiful and clear drop-down categories menu with pictures
Show categories without clicks
Improve site usability and search engine rankings
Accelerate the search for goods and their purchase
Give your customers simple, intuitive and attractive category navigation for better shopping experience
Statistics showed that buyers are much more likely to return to online stores with a drop down menu, thinking - "it's more convenient", because they quickly find the right product.
This happens because the menu is made according to the needs of customers:
Quickly understand which category the right product is in. To do this, we added images (a picture of an authentic category of products), which are recognized by the brain at times faster than plain text. Result: the user understands easier and faster navigation in the store.
Quickly find out what this category is about. For more selective customers, images reinforce descriptions. The client immediately understands whether this category is necessary to them.
Give positive emotions. When looking through the menu with pictures the user experiences more positive emotions and is pleased to be in the store. As a result, they are more likely to return when there is something to buy.
Involvement. When user interacts with menu with a mouse, it involves them better in the buying process.
Save customer's time. View the menu by hovering the mouse over the category without a single click. Customer sees all the most important things with one hand. Buyers return at the shops caring about their time.
Attention. The area of the drop-down menu is much larger than the usual menu, and this immediately grabs the buyer's attention and leads him to purchase the desired product. Buyers love when everything is clear and he can quickly find the right product.
For you, the result of installing the Multi-level Illustrated Menu is growth:
Conversions to purchase
Customer Loyalty
Return of customers
Speeds of search and purchase of goods
Check out the demo: https://kinvasoft.ecwid.com
Increase customer loyalty by installing a Multi-level Illustrated Menu.
New features added since the app release:
6 ready templates for the menu
3 width options:
– Auto (Width is equal to the width of the product list container)
– Default (Width 990px)
– Maximum (the full available width of the screen)
Focus on the menu (darken the background when customer hovers over the menu)
Display information in the drop-down in 2, 4, 5, 6 columns
Enable and disable images and text of category description
Customize the font for the menu
2 display options for mobile menu
Added fontawesome.com support for custom fonts
Improved text display when zooming in and out of page
3 options for adding menu to storefront and custom containers: replace, append first, prepend last
Menu can be embedded to other pages of your website
Embedded menu can be stylized differently: change design -> copy new embed code)
Added real-time menu preview next in the settings
Menu items top and dropdown icons
Menu on page scroll stuck on top
Copy widget token button
Multiple display improvements
Social Media Accounts
Find out first about new features of the app in:
👉
Instagram
👉 ​​​​​​​
YouTube
👉
Facebook
👉
Vkontakte
Multi-level Illustrated Menu: Show Categories Menu with Pictures
Price:
$6.49 / month, free trial
We use cookies and similar technologies to remember your preferences, measure effectiveness of our campaigns, and analyze depersonalized data to improve performance of our site. By choosing «Accept», you consent to the use of cookies.