Trimpo: Start selling on eBay, Etsy, Amazon and VK
Price:
Free to $20+ / month, free trial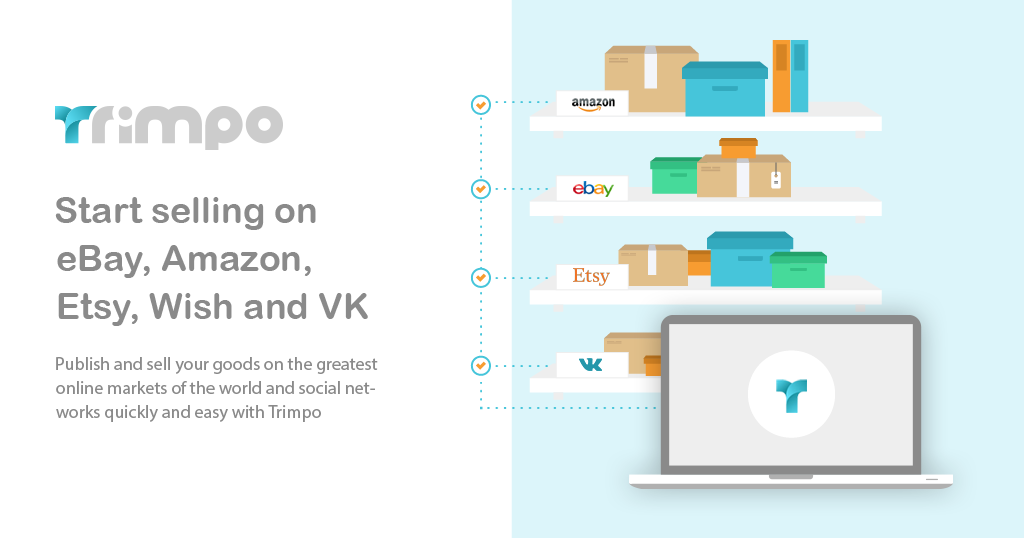 Sell on global marketplaces, easily manage your sales and product data
Easy import of your products
Automated price and stock synchronization
Useful reports and analytics of your sales
Access world's largest marketplaces and gain new customers in just a few clicks
Notice: the application is free in beta right now. Once completed, it will require payment in order to use it.
Once you have installed Trimpo, connect with eBay, Etsy, Amazon or VK.
All eBay sites, with the exception of eBay Motors, are available. Available Amazon site is Amazon.com.
In Trimpo app you will need to set up a trading policy. The trading policy includes the delivery and return policy, price policy, and management of discounts.
Done! Add your products to any of the available marketplaces and watch the sales flow in! All orders and inventory of your products will be synchronized automatically with your online store. Also, all orders placed through the marketplaces will automatically display in your online store Control Panel.
Trimpo: Start selling on eBay, Etsy, Amazon and VK
Price:
Free to $20+ / month, free trial
We use cookies and similar technologies to remember your preferences, measure effectiveness of our campaigns, and analyze depersonalized data to improve performance of our site. By choosing «Accept», you consent to the use of cookies.