Channable: Multichannel eCommerce Platform
Price:
From €39 / month, free trial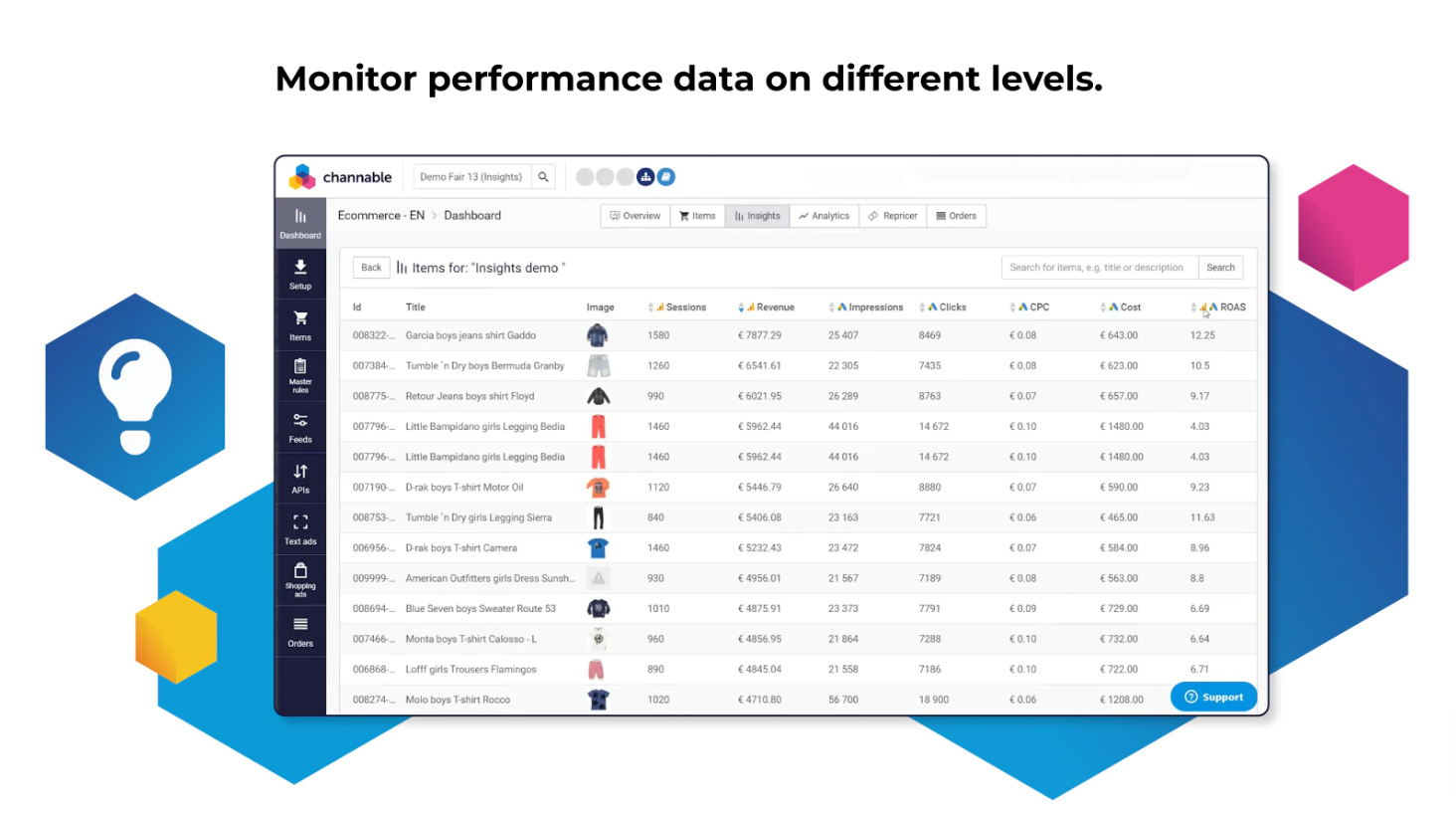 Feed Management, Marketplace Listings, PPC Automation, Insights & Analytics
Use rules to enhance and optimize your product data and reduce time to market
Create dynamic ad campaigns based on your product feed to increase ad relevance
Categorize millions of items for your feed and marketplace channels with the power of AI
Monitor performance metrics on different levels to make data-driven decisions
Channable empowers your eCommerce growth
Staying in control of your product data can be time-consuming and challenging, especially when your product catalogs and marketing channels are expanding. Effective retailers master data segmentation and optimization with multichannel eCommerce tooling, allowing them to guide algorithms towards generating impactful results.
With Channable, you can import your product data directly from your back-of-shop and manage and optimize it for better performance on various channels. You profit from built-in templates to meet the requirements of more than 2.500 marketplaces, comparison sites, retargeting, affiliate, and advertising channels. Synchronize your orders and keep the overview of your inventory across platforms. Create ad campaigns at scale, in an automated way and based on real-time performance data.
To empower small and large businesses across different industries based on their business needs, Channable offers a monthly subscription model with variable pricing packages, a free trial, multilingual technical support and extensive learning resources. Get started with Channable and lift your eCommerce efforts to the next level.
Channable: Multichannel eCommerce Platform
Price:
From €39 / month, free trial
We use cookies and similar technologies to remember your preferences, measure effectiveness of our campaigns, and analyze depersonalized data to improve performance of our site. By choosing «Accept», you consent to the use of cookies.